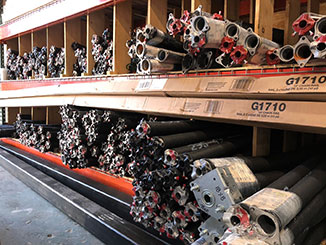 DIY Is Far Too Dangerous
While your garage door springs are one of the most important components of the system, they're also one of the riskiest to try to handle yourself! They hold the weight of your door due to the fact the energy they store is what's used to lift it, so one wrong move could send the door crashing down. Not only is it a threat to your safety, but it can cause even greater damage in the long run as well. Instead, it's far easier to allow experts to take care of it instead. We've been working in the area for years and will be able to get your springs taken care of right away!
Torsion Or Extension?
Unsure which type of spring your door has? That's okay! We're familiar with both types, so we'll be able to take care of the issue for you. The difference is in how the spring generates the energy it stores, which is then used to lift your door. Torsion springs do this by twisting up tightly, whereas extension springs are stretched out to create tension. Extension springs tend to wear our faster due to being pulled to their limit daily, and snap when they break which can cause damage, so it's best to have them tended to more frequently.
We Can Do It All
Our experts would be happy to lend you a hand with adjusting or replacing whatever type of spring your garage door has in no time! Sometimes the spring may just be shifted slightly out of place, hence needing adjustment to work properly again. However, if you heard a loud bang in the garage and notice that your door struggles to open and close, the issue may be a broken spring that needs replacing. Don't worry! We'll get it done for you right away and get your door working easily again.
Schedule Your Appointment Now
Just call Garage Door Repair Concord today and we'll find a time that works best for your busy schedule right away!
Some Useful Information
What should I do if my garage door spring breaks?
Broken garage door springs are a safety hazard and not something you should try to handle on your own. If you need to get your car out of the garage you may find it difficult as the door most likely won't open. If you have to raise it, ask friends to help and don't do it on your own. Get your car out and gently lower the door again. Do not try to repair the springs yourself. These units are under an enormous amount of tension and one false move can result in serious injury. Call your local garage door repair specialist (that's us!) to safely take care of this problem for you .
How much does it cost to replace a garage door spring?
Replacing this type of unit can set you back beween $100 to $300, depending on the size of the unit. The cost also varies depending on whether you need a torsion spring or an extension one (the latter are installed in pairs) and should also include the labor costs of having a professional replace the springs for you. If you have more than one, but only one of them broke, the other one is sure to follow so you should look at replacing both.
How long do garage door springs last?
On average, you can expect your garage door springs to last up to 5-10 years. Depending on how many times a day the door is opened and closed, your springs can last for a little longer or a lot less. However, as most people tend to enter their homes through their garages these days, this type of system gets more use so you may very well need to replace these units within 5 or so years.
How do I adjust garage door spring tension?
If you think you need to adjust the tension of your garage door springs you first need to identify the problem. Lift the door manually and let it hang halfway open, to see if it keeps rising or descends quickly. If it doesn't stay in place, then the tension definitely needs to be adjusted. However, this type of work can be very dangerous, so unless you're a 100% certain of how to do this, you'd be far safer giving our team a call.
We also offer the following:

Garage Door Safety Inspections

Garage Door Tune Up Services

Overhead Garage Doors

Fix Garage Door Track