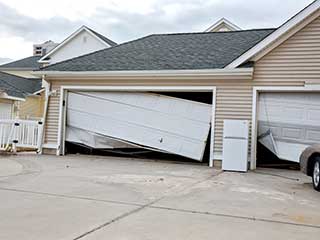 No need to wait when you've got a problem suddenly with a garage door. Some issues can wait for a fix, but with major problems like broken springs on your garage door, you'll need repairs carried out as soon as possible. That's why the experts from Garage Door Repair Concord offer urgent service solutions daily. Need to replace broken springs? We send our technicians out with replacement garage door parts to let them fix a variety of issues on the spot. Whether it's cables frayed or broken rollers popping out of the garage door track, our local repairmen can apply the appropriate solution right away.
Opener Isn't Working
Any issue that causes the garage door not to open all the way or at all can often get traced back to the opener. Since this machine operates a motor as well as electrical components, it's liable to experience a variety of potential faults. What does that mean? It means that garage door opener troubleshooting can prove more complex than one might expect on some occasions. But not to worry. With opener repair services provided on the same day you call, we offer Concord garage door repair solutions to all nearby areas. Get help today for any opener sensor, drive, or logic board issue.
Broke a Garage Door Spring – Help!
No need to fret. While it's very annoying when a garage door spring breaks, a quick solution is only a phone call away. Remember, though – replacing broken springs is not a task you'll want to attempt by yourself. There are serious dangers involved potentially. Leave the broken spring replacement to Concord garage door repairmen in your area. With our expertise and experience, we've been able to help replace broken springs and adjust worn ones for plenty of customers. Broken spring repairs can take very little time when carried out by experts. So whenever you've got a problem like this, be sure to let us know.
The Quickest Garage Door Repair Services Near You
Save yourself all the hassle and headaches. When you've got a problem with the door in your garage, get the local professionals to help you get everything back on track. Speaking of which, we also help customers with garage door off track scenarios and even damaged panels and other hardware or electrical parts. When you need the fastest garage door repair services near Concord at an affordable price, go ahead and give us a call!