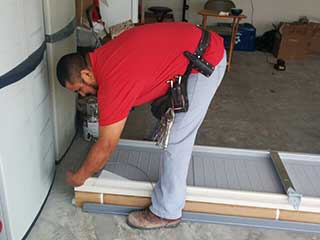 The last thing that you need is to wake up and find that your garage door refuses to work properly, leaving you stuck when you have places to be. This can occur if your door needs repairs - yet they go ignored, as the longer you use your door when it's malfunctioning, the worse the harm will get due to strain. Signs such as your door struggling to move, making a racket, or shaking can all indicate that it needs to be checked out by the experts. With our experienced team, you can rest assured that it will all be taken care of before you know it!
Replacing Broken Extension & Torsion Springs
From torsion to extension, whatever type of spring you have is no problem for our technicians. Your garage door springs are vastly important to the system being able to open at all, as they generate the energy needed to lift the door using tension stored in their coils. They act as the muscle required to get it off the ground because it's much heavier than it may look. Trying DIY with spring replacement is particularly dangerous because of this, as the spring can snap and hurt you, or the door could suffer worse damages due to inexperience. Instead, let our trained team get the spring switched out quickly and safely for you so you won't have to worry.
Professional Opener Repair & Replacement
Your garage door opener is what powers the whole operation, which is why it's vital to keep it in good shape! Its parts are bound to wear down over time from use, or start to build rust, which is where we come in. We'll determine the source of the issue and repair or replace the responsible part as needed. If the opener itself requires an upgrade, we can help you find a new one and get it switched out as well!
It's Time To Schedule!
Contact Garage Door Repair Concord today so we can find the best time for your appointment and get your opener tended to!
How To Handle Common Problems
Why does my garage door cable keep coming off?
If you encounter this type of problem you may need to check the cable tension and make sure that it's not too loose. If it is, then it can get snagged on small little features and that would explain why it keeps coming off the drum. Because these units support the weight of the door, you should let a professional handle any frayed or broken cables you discover. If neglected, they can end up snapping and your door could get stuck or slam shut as a result.
How much does a garage door weigh?
There is a lot of metal in the makeup of the average garage door so you can bet it can be quite heavy. The on the size of your door, and the materials used to build it will determine this. Naturally, aluminum weighs far less than wood or steel. You can expect a single garage door to weigh anywhere from as little as 130 pounds and up to 400 pounds or more if it's especially large and has glass panels or extra reinforcement.
Give our team a call if you need help with:

Extension Spring Adjustment

Opener Clicker Repair

Replace Door Sections

Install Garage Door